363001751-Manafort-gates-Indictment-Filed-and-Redacted
Link to the indictment of President Trump's former campaign advisor on charges of money laundering, tax fraud and unregistered lobbying.  At this point, the charges are related to financial crimes unrelated to possible and alleged Russian collusion with the Presidential election.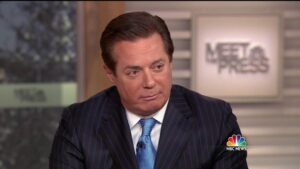 Former Presidential advisor, George Papadopoulos pleads guilty for making false statements to the FBI.  gp_plea_agreement.filed_
George Papadopoulos statement_of_the_offense.filed_
The District Court also made Paul Manafort's attorney testify, breaking attorney-client privilege based on the finding that Manafort consulted his lawyer in order to commit fraud, "Communications otherwise protected by the attorney-client privilege are not protected if the communications are made in furtherance of a crime, fraud, or other misconduct." In re Sealed Case, 754 F.2d at 399."
This unusual District Court order can be read here: 17-mc-2336_MEM_OP_REDACTED FOR UNSEALING_20171030.